Eligible Job Seekers can receive 100% funding to cover training costs under this SAO initiative.
ELEVATE PLUS MILITARY is an Employment Ontario Pilot that provides FREE training, upskilling & development for Military Spouses, Family Members and Former Serving Veterans transitioning to civilian workforce in select industry sectors. The goal is to ensure individuals possess skills and knowledge that are portable and suitable for today's and tomorrow's market demands.
The ELEVATE PLUS MILITARY Training Program is meant to help individuals access training, build skills, or find employment by providing job seekers/workers with the opportunity/training needed to find and keep good jobs. The program is available to anyone who may be unemployed and looking for fulltime work or underemployed and who simply face barriers to advancement or lack transferable skills in their current position.
"This program is a great example of Loyalist College's innovative work to support our veterans and their families so they can get the skills needed for life-changing careers in portable and suitable sectors," said Monte McNaughton, Minister of Labour, Training, and Skills Development. "As we continue to recover from the economic impact of COVID-19, I want more people to have access to the training needed for good jobs that are available throughout the Bay of Quinte."
Job Seeker Training
Salesforce Cloud Consulting Bootcamp Tech Training – Training Begins August 2nd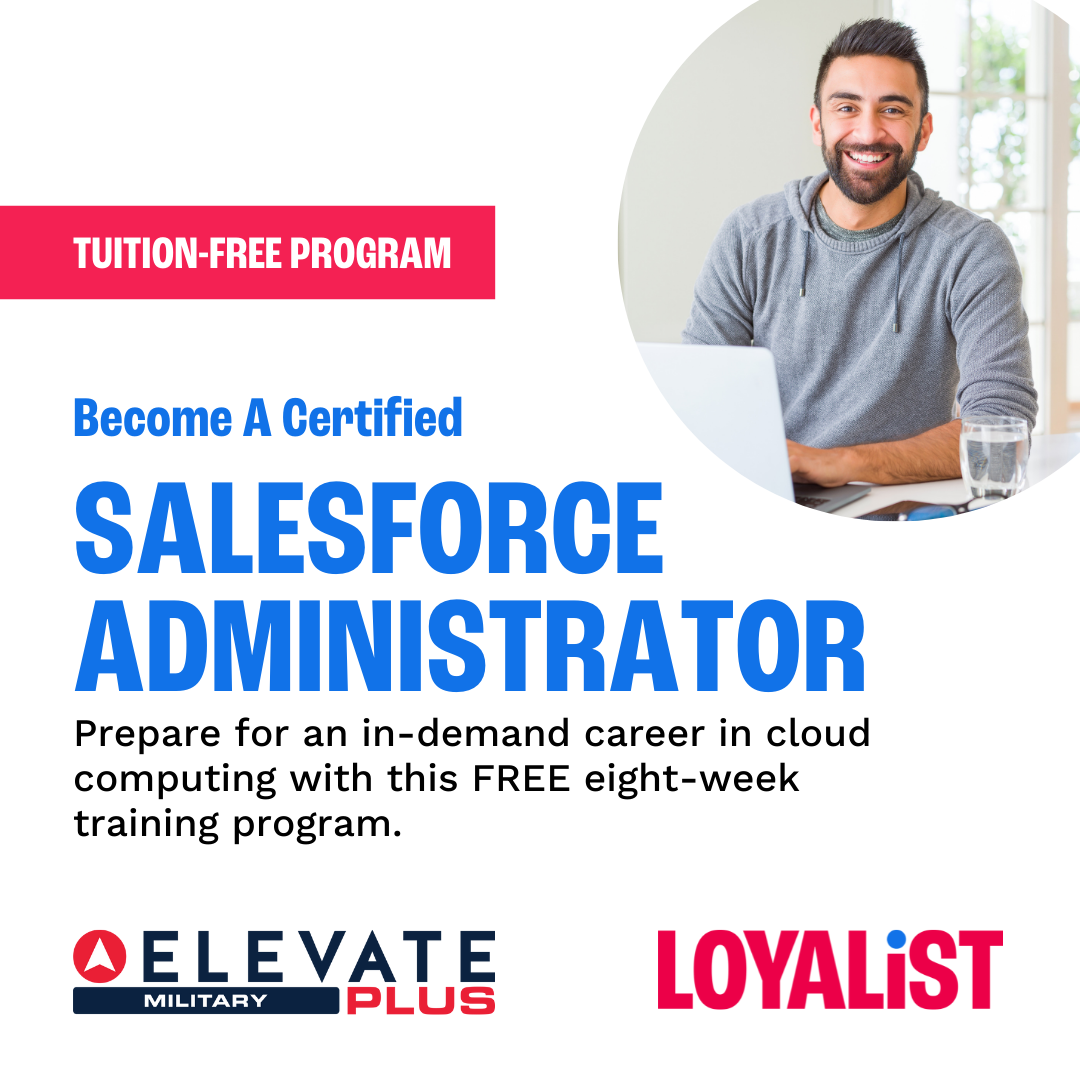 At Elevate Plus Military, we are all about advancing change, creating hope and building resilience. During these virtual training programs, you'll gain a better understanding about your personal attributes, your values, and your interests. You'll explore the new landscape of the current workplace, about the expectations of employers, and about others with whom you'll work. You'll discover and learn about essential soft and technical skills that are required for the field of work. Finally, you'll receive on the job training and participate in a job placement before being connected with an employment opportunity upon graduation.
How is the program structured?
The program is designed to be completed with a commitment of 20-25 hours per week. Throughout the program, you'll use a variety of learning tools. Sometimes you'll connect with a virtual instructor engaging and involved with group activities in "real time" using Zoom at a scheduled time. Sometimes, you'll complete self-paced learning online at a time of your own choosing and convenience. And, at other times, you'll access links to video content through our digital platform known as Blackboard. And, sometimes you'll connect with your learning coach to prompt you individually, and answer questions.
Regardless of the learning activity, you need to have an open mind, and be eager to try new things in order to be successful. You'll need to allocate dedicated time to participate with instructors, and to study and review your key learnings. For more information, reach out today!
This model incorporates a number of important elements to address the challenges of those seeking employment by providing them with: 
Essential training integrated with literacy, language and industry specific skills
Workplace training co-designed with the industry employer
Program Graduates receive a certificate from Loyalist College
No tuition fees for participants
Eligibility Requirements
Designed to support individuals to obtain higher skill levels and sustain longer-term employment in Online Services, the Early Childhood Education Sector and Tech Industry. Referred participants should have the following characteristics:
Unemployed (18 and over) or working 20 hrs. per week or less
Legal resident of Ontario
Strong desire to gain full-time employment with the opportunity to start or re-start a career
Able to attend classes completely virtually
Ability to commit up to 20 hours/week for multiple weeks to attend online training
Incumbent Worker Training
Incumbent Worker training brings employers, training providers, and workforce organizations together to increase job security, to provide for potential advancement with your current or future employer and to improve overall company performance. Professional development opportunities will be provided to teach new skills or upskill at no cost to you or your employer and will be conducted virtually in a Continuing Education, classroom style setting ongoing in 2021. By connecting with us, employers can capitalize on a vital opportunity to help their organizational needs in today's challenging and changing world of work.
We also know that during a time of uncertainty that motivation is difficult when fear is a constant of our day to day lives.  However, our amazing group of trainers within the SAO are committed to the support of moving people into development safely with virtual training options.
Eligibility Requirements
Designed to support individuals to obtain higher skill levels and sustain longer-term employment in the Financial Services and Banking  industry. Referred participants should have the following characteristics:
Employed (18 and over) P/T or F/T but facing barriers in your current role
Legal resident of Ontario
Strong desire to advance your career path
Able to attend classes completely virtually
Ability to commit to a training course on your own schedule


This Employment Ontario project is funded in part by the Government of Canada and the Government of Ontario.